Author Speak
People need to know and preserve geological heritage: Pranay Lal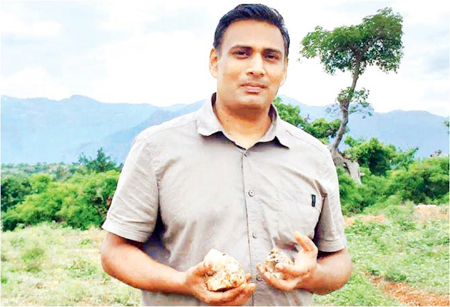 Book Link Correspondent
Did you know that Mumbai sits on a massive bed of volcanic rocks? The picture that immediately pops to our mind is that of hot, molten lava flowing through the now picturesque Queen's Necklace. Gabbar Singh's menacing hideout in the Ramanagara rocks in the timeless Bollywood hit Sholay, for instance, was formed over three billion years ago, making India one of the oldest countries on earth. We are an ancient civilisation yes, but we are also a very ancient land—only three other countries have rocks older than ours.
Pranay Lal's new book, written with all the tension of a suspense novel and the lyrical prose, Indica: A Deep Natural History of the Indian Subcontinent, offers a peek into rare and often, astonishing facts and discoveries about the life that surrounds us. Indica is better than any sci-fi novel. Book Link catches up with this exceptional researcher on the sidelines of the Jaipur Literature Festival.
It's very interesting how you focus on India through a geological standpoint... almost like there's reverence in it. How much in love are you with India's geological history?
I have been looking for answers to questions all around me since I was a child, and anything which answers those questions I am in love with. Geology, I realised, answers a lot of those unanswered questions, for example why does a river rising in the Western Ghats go all the way to the Indian peninsula when it's only 60kms away from the west coast where the Arabian Sea is. Teachers could never satisfy these questions for me, and therefore I started looking at other sciences for answers, and geology is where I found it.
When did this love and obsession over how nature works and understanding natural history start?
I grew up in Africa, and since my childhood I used to look at creatures and trees around me. I loved trees man, for me it was like playing a video game. You could look at an ant army go up, and then suddenly there would be a lizard waking up and basking in the sun to warm up its blood. Those kind of beauty is gone, where we used to just sit and enjoy nature. There are so many hidden mysteries in our backyard; it's like Sherlock Holmes where you are looking at a piece of land, a soil sample and trying to figure out what all must have happened here thousands of years ago. That in itself fascinated me a lot.
There are so many interesting things in your book, which is your personal favourite?
It's been 22 years, so everything I found out was an awe moment. It's difficult to choose a personal favourite, but in hindsight I like to recall this human example. There is a village in Jharkhand where you find small volcanic rocks which looks very similar to rice grains. The discovery of those rocks developed a whole new culture in that village, where any newly wedded girl is teased by asking whether she is good enough to cook rice, and is given a bowl of these volcanic rocks instead. The girl, obviously unaware that the bowl in fact contains rice, boils and boils it but is unable to cook it, thereby invoking a hearty laugh among the people of the village. There are so many beautiful wonders in India, and I haven't even been able to put down one fifth of what I found out.
India lacks a proper mechanism to systematically document and preserve evidences of our natural history. How do you suggest we change this?
Well first, all this research which happens in India is through public money. So there needs to be public accountability to all the money that has been spent on this kind of research. It should all be spent in a form where the public can access what has been explored and discovered, like through museums, and I don't find any place in the world except India where this isn't the case. You can notice that none of the images in my book is from any government of India institutions, except for some older ones which are anyway available in the British museum. These are fossils which we should be preserving, but is being done instead by the British government. Even if you look at the list of illustrators for my book, there is not a single one from India. I think we should start going out more, see the nature around us. I would encourage science and natural history writing festivals or workshops to happen. Children should be taught to appreciate nature. Why should they not be asked to write an essay not only on Diwali but observe a tree in his own backyard and write what he sees?
Tell us something about the research process that went into writing Indica. Much of all the research happened before the 'internet ka zamaana', so I used to go and meet a lot of people. Most scientists, I learned, only work on specialised time periods and that too studying one particular thing. Like a scientist specialising in the Mesozoic era about plants would not know about insects. You find very few scientists in India who break such silos and have a large, grand view about everything—the biology, the physics, the chemistry—the whole understanding of what happens. So I used to get answers in patches, and there were a lot missing links. It was people like Professor Ashok Sahni, Pradeep, and Sir Richard Fortey who helped me to join those dots.
Are there lessons to be learnt from our natural history that we should apply in our present?
With the smog in Delhi, the polluted rivers, the dying jungles, threat to survival of species like tigers, elephants, bears, Gangetic dolphins etc., I think we already know where our natural future is headed to. Anybody who reads this book diligently and gets into a dialogue rationally will be able to find answers in our natural history as to how we can prevent and safeguard our environment. The worst thing about the scientific community as well as journalists is that they are not asking the right questions. The answers do not lie in technology, they do not lie in a random odd-even scheme, it lies in our natural history. We have to understand why a particular phenomenon continues to occur, and we have to start finding solutions through geo-technical answers.
You mention an interesting perspective, that 99℅ of all living things that ever lived on earth have become extinct. Do you think humanity has evolved to the point where we now have a greater say and sway over natural occurrences?
Of course, humans have been the most impactful agents of change detrimental to the environment. No other creature, except microbes which produce oxygen has made this kind of a difference. The extinction of Dodo was the first documented sign in modern times of how humans can change the entire ecosystem of a region. Because in a food chain, different species are interdependent on each other for their survival. So if humans are going to kill one, and subsequent species die because of that, the entire ecosystem collapses. Because of this there is an irreparable loss that happens. Will nature recover from it? Yes. But can we get back the lost species? No.
You propose a theory that the extinction of dinosaurs might not necessarily have been caused by the meteorite explosion. This is a very controversial idea that is still developing. Scientists tend to stick with what the original theory was, which was proposed by the father-son duo of Luis and Walter Alvarez. But Stephen Brusatte, in a very interesting paper, reveals how possibly the dinosaurs were already on the road to extinction, with the killer blow being the meteorite hit. Mathew M Phillip
Vinode Pande talks of the 'inner wailing'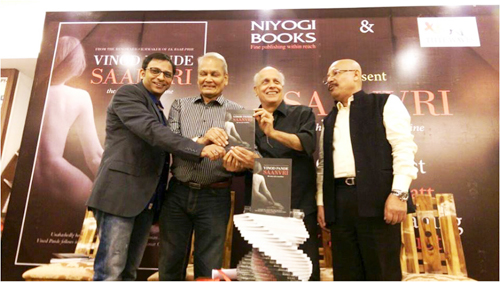 With the release of his latest novel Saanvri: The Story of a Concubine at the WBF the renowned actor, director, and author Vinod Pande revealed more about his future projects, took us back to his early days in UP. Radhika Tiwari gives Book Link readers an insight of his bumpy yet fascinating journey in the film industry.
How was your childhood and from where did it all start?
Mine was not a childhood of any remarkable achievement or upbringing. I am from a middle-class family. My father was a government doctor and times were such that we had to study under the lantern which was our only luxury at a time when there was no electricity. Later I did my studies from the small towns of various districts in northern UP such as Muzaffarnagar and Meerut. After doing my graduation in Science (Zoology, Botany, Chemistry), I did my masters in Social Work despite the disappointment  of my parents who never wanted me to get into a field which does not guarantee a good career. So, this in itself was a kind of defiance. I tried my best to assure them of the number of possibilities but to no avail. Therefore, instead of convincing my parents I decided to focus on my dream and somehow managed to manoeuvre my way into acting. I used to play small roles to earn  a living but later on I got a huge opportunity to go to London under a scheme for the people from the Commonwealth nations. Interestingly, my earlier experience at the All India Radio channel helped me in bagging the job of a transmitter at BBC. It is where it all started, gradually, I started making my own documentaries, ad films. But even that proved to be a bumpy road ahead as not everyone from the film industry appreciated my bold stories. Some even asked me to change the ending of a film where the woman decides to walk out of her marriage as the Indian audience will not like it, they said. But after the release of Ek Baar Phir, I saw people receiving it with open arms and I was overwhelmed. That felt like a beautiful dream and I was so glad that I followed my heart and did not make any changes in the film.
You are also passionate about writing. In fact, your first novel, Don's Wife was a hit among readers. So, how did your first book come about?
I would like to be honest here. I was secretly writing a book called Beyond Frontiers. It was on the Indian Diaspora in the mid 18th century and somewhere in the midst of topics like colonisation and child slavery, I realised that the story just didn't seem to end. I was unable to decide an ending so I left it there itself.
Now, what happens in our film industry is that your last film is your testimony. Unfortunately, if your next movie is not good you will get nothing out of it. So I was looking for other financial alternatives when a friend of mine suggested to me to start writing a fiction as most of my movies had the same kind of story. I told him about Beyond Frontiers but instead of that, he asked me to pick up something from the mainstream like the extramarital affair or some other social issues. That's how my first novel, Don's Wife came about. And since then I've fallen in love with writing. It has always strengthened my conviction about myself. Writing empowers me as an author.
What are your future projects? Both in the film industry as well as in writing?
Currently, my main focus is on my youtube channel VPEOrg. I'm looking forward to releasing some more documentaries and short films like Panaah.
As Beyond Frontier is right now on a hold, I'm working on my third book which is on destiny. It is a story of a Union Minister from the liberalisation time who falls for a lady hired by his wife to spy on him. It is another mind-boggling story which I positively think will be loved by all. (Laughs) Bottomline. I'll do both.
In our society, there are still many who don't see acting or writing as a profession. So, as a well-accomplished actor, director, and author what would you like to suggest to our young aspirants?
There is a word called 'walwala' in Urdu. Something brews inside us and troubles us continuously. That's called wailing in English and it should never be pushed aside. One must always listen to their inner self. See, this is the right time to at least try what one wants to be. The social media and the various digital platforms like youtube are so vast if you want to act or direct you need not seek permissions or look for a director, producer, exhibitor. If your content is good, you'll get the audience. Likewise for the writing. Just do what you feel is right. Never compromise with your dreams.