DesignerSpeak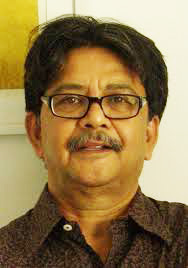 Creative edge a gift few have: Atanu Roy
Atanu Roy is an Indian illustrator and cartoonist who has illustrated more than a hundred books, games and educational aids for children.. Roy studied at the Delhi College of Art, and illustrated his first book while he was still a student, a black and white book about the history of transportation.
After graduating, he worked with publishers Rajpal & Sons, where he did book covers and illustrated the works of writers such as Amrita Pritam and Agyeya. He then worked with the India Today group as art director of the children's magazine Target, where he also illustrated the joke pages. He has received many international awards and prizes for cartooning and illustration. He has received prizes at the Yomiuri Shimbun International Cartoon Contest, 1983, '84 and '86, the Sir Bob Geldof Cartoonaid, 1987, for a book of cartoons, the Children's Choice Award 1989 (AWIC) and many other prestigious international awards.
Remember the Gijjigadus images in the larger than life size book by Katha publishers? Book Link asks the prolific illustrator how it all started.
It started way back in the late sixties when I was in college doing a BA in Applied Art. It was a big thing those days to be an illustrator for picture books. The masters ruling the roost were legends like Pulak Biswas, Mickey Patel, Pranab Chakravarti and Saradindu Sen Roy.
It was a very difficult time for new illustrators to break into the field of picture book illustration then. Most were in the two color mode on cheap paper and there were hardly any publishers willing to bring out books for children. I just did not want to do a two color book! I wanted full color for children. So I waited and got my first break doing an alphabet book for Frank Educational Aids.
The floodgates opened after this and I did Kaju and the Shoe which got the Children's Choice Award in 1989. Therefore I consider this to be my first book for children. Since then I have done well over a hundred picture books. The profession  is no different than in any other trade. Anybody who is talented and committed will do well. There is a lot of work in this field and the variety is also formidable.
How much importance does a thorough knowledge of software hold for a designer?
Software is nothing but a tool. The most important part is the creative talent of the individual. It is ideas that are important and once that is generated, execution follows along with the medium best suited for the particular assignment. Personally, I go for the more tactile way of sketching, choosing the medium and keeping in 'touch' with the process. I do use software too as and when needed.
Software is extremely important for the illustrator if it is used wisely as in animation. But to think that if you know how to operate a particular software, you will automatically become a designer is not true.
How does one differentiate oneself or attain the 'creative edge' which every company/client asks for these days? How does a creative person work under crunch deadlines? How would you suggest a designer should work with tight deadlines?
The 'Creative Edge' is honestly, a gift few people have. One can never define it in words when an idea hits you and you fail to explain the logical steps leading to it, is the creative edge moment. Sadly, most of the creative stuff that comes out is plagiarised from the original sources. 'Everything Wanted Yesterday!' and Working Eight Days a Week have been the common refrains for us sloggers in this profession. Especially for the poor folks in the advertising agencies!
Very few understand that it is essentially a very slow and exacting work and mistakes are simply not affordable. With growing competition in products, the surprise factor is very crucial for the launch and promotions thereafter. Also with technology jumps the reactions to the work are instant. So, if one does a rough creative in the morning, it is beamed out to the client who will pass it as it is or ask for changes almost immediately! And all this is done in the last minute so as to keep the whole effort from getting 'leaked' to the competition!
A good designer is one who is street smart as well. A good grounding in rapid drawing skills and very high awareness levels helps. It is important to understand that you and your talents are a tool for the clients to promote their products. It is wise to leave your ego safely locked away and get to work.
Can you please share with our readers some tips on good typography?
Typography is huge. Sadly, it is the most underrated creative medium today. It is a total genre by itself and it needs a lot of careful study and a very high level of understanding of the text to create visually easy and beautiful layouts and designs out of type. A keen sense of the negative and positive spaces is absolutely vital. Use of text face and display faces in tandem has to be done so that both are seen in their own perspective in a balanced and be easy to read. Avoid using too many typefaces together and do give them a lot of breathing space.
Do you think studying from a good school/college is necessary for a designer to be good at his/her work?
Yes. It is very important for a designer to be well read and aware, curiosity and using references, doing background research are all part of the designer's kit. But along with being sensitive and extremely observant, what I think is most important for a successful designer/ art person is - attitude.
An open outlook sans any bias of gender, religion caste or creed is imperative.
Akansha Jain