NEW DELHI WORLD BOOK FAIR
Children's Pavilion NIOS kids participate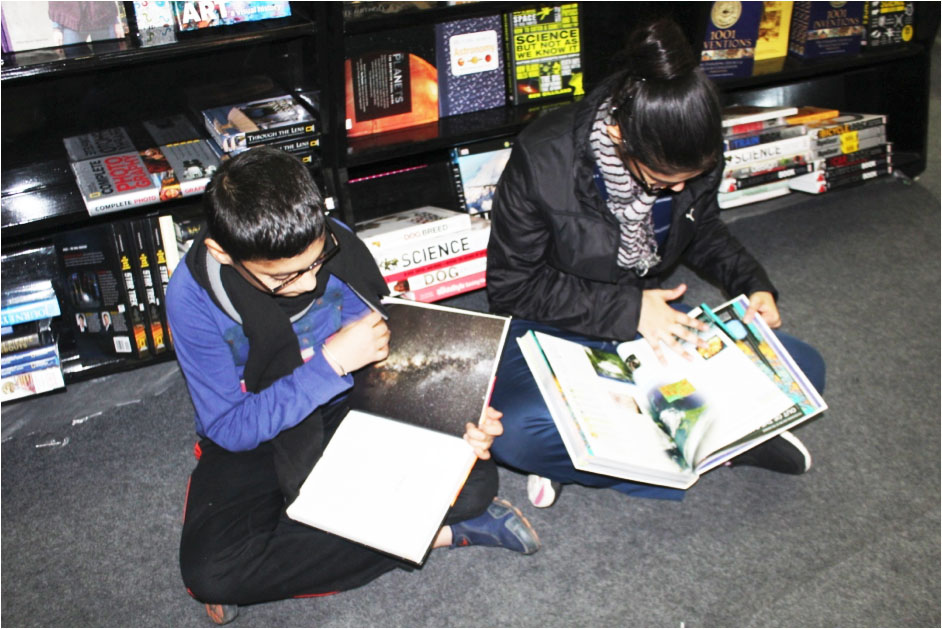 The most exciting place for children and adults in the World Book Fair was Children's Pavilion (Hall 14).  About 150 children with disabilities from the National Institute of Open Schooling participated in the various programmes at the pavilion.
Writers Syeda Hameed and Kamla Bhasin unveiled the Bharat Mata Ka Paanch Roop, originally written by Khwaja Ahmed Abbas to the children, a programme organised by Pratham Books.
Reputed illustrator of children's books Atanu Roy engaged the children in an illustration workshop under the banner 'A Brush with Creativity'. Children were asked to draw a monster and they came up with really frightening drawings of monsters. Children of all age group in large numbers participated and enjoyed the workshop.
A Quiz Competition was organised by National Monuments Authority under Ministry of Culture with questions like the biggest discovery of early man, ancient name of Delhi, who wrote Panchatantra etc.
The students of Nidhi Public School, Faridabad, enacted a play 'Let's Know our Solar System'. An interactive storytelling session 'World of Stories' was   conducted by Payal Chaudhary, a freelance storyteller. 
'Fun with Typography' a workshop organised by Happy Horizon Trust drew overwhelming response. Kshitiz Anand and his team made the children aware about Typography, different kinds of fonts and how we may use them for expressing different emotions. Children were given paper, different alphabets, fonts and pictures to make posters with caption. Children formed small groups and made interesting posters using different fonts. Later, Hare Krishna Devsare of Bal Sahitya Nyas organised a session on 'Aao Leekhe Ek Kahani.' Veteran writers  Madhu Pant and Devender Mewari conducted the session.
Story was the most popular event in the Children's Pavilion. Hemant Kumar and Ramendra Kumar, both storytellers, made the children captivated with their stories. Hemant Kumar first told a story and  narrated how it can be dramatized in sequence with character, dialogue, action etc.
BLD
Book reading faces digital challenge: Javadekar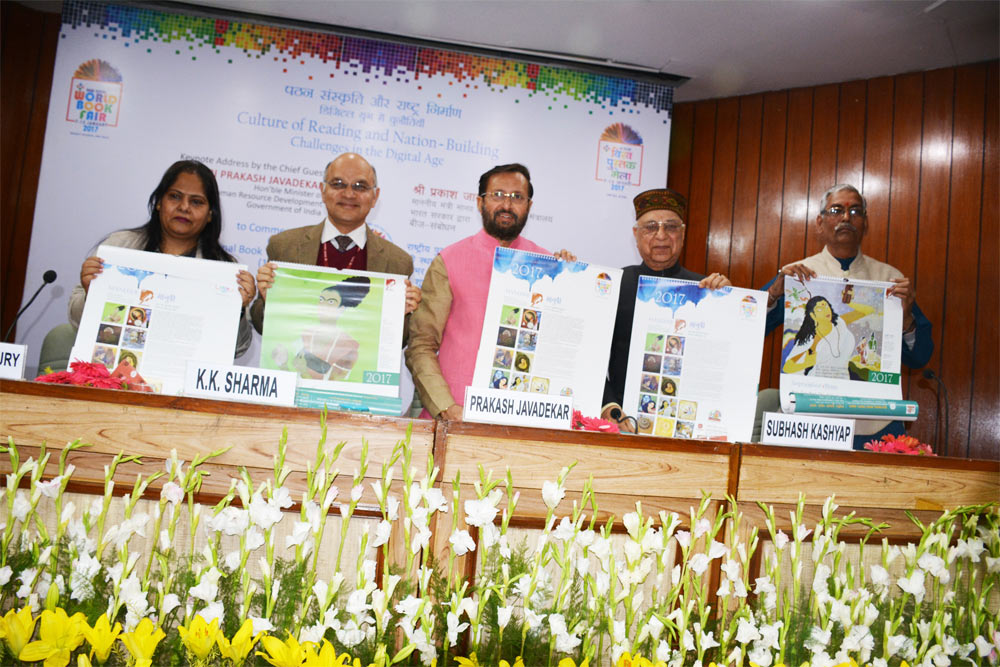 Union minister for Human Resource and Development. Prakash Javadekar, in his keynote speech at the session, 'Culture of Reading and Nation-Building: Challenges in the Digital Age' in the New Delhi World Book Fair 2017, urged children to read beyond text books and said, 'reading is India's ethos'. Saying that the world of books is very different, he called it 'gyansagar'.
On the occasion he also launched the fair's theme calender, Manushi and said that we presume education of women began about hundred years ago but their education began much before. The calendar reflects this rich and long tradition of women writers and thinkers since ages, from Gargi to Bahinabai as portrayed in the calendar. He added that women writers have made significant contribution in literature  which is a  matter of pride and honour for India. He also released  NBT's recent publications including: A collection of short stories by Odia women writers, Sanskrit Alochana Ki Bhumika and Thiruvalluvar's Thirukurral Jeevan Path.
Talking about Prime Minister Narendra Modi's successful initiative Vanche Gujarat when he was the CM of the state, Javadekar vowed to take the work forward with  campaigns like Padhoge to Badhoge and Padhega Bharat to Badhga Bharat. Padna hi Zindagi Hai, the Minister said.
Eminent Constitutional Expert Subhash C Kashyap was also present at the event. He recalled his long term association with NBT India. His first book Our Constitution which was published by NBT was released by the speaker of British House of Commons in 1979.
The HRD Minister also released the  books Cyber Pathshala authored by Tarun Vijay and Shambhavi, Reflections of the Supreme authored by Prasanna Kumar Patasani, Lok Sabha MP. The book Cyber Pathshala has introduced new words like C for Cashless, D for Demonetization, H for Hacking etc.
The Minister said, in order to promote the culture of reading the ministry was committed to  endeavours like Mobile Reading  Vans and reader's clubs. He also emphasised that there is a great need for production of more and more books in Braille Script and Audio Books so that the Divyangs or differently abled people can also inculcate  reading culture.
In his welcome note,  Baldeo Bhai Sharma, Chairman, NBT, said that books are man's best friend. Rita Chowdhury, Director, NBT proposed the vote of thanks.
Aman Ujjwal
60 Year of NBT
As the National Book Trust commemorates its 60 years' (1957-2017) journey of Promoting the Culture of Reading, a special exhibit was put together, titled This is No Looking Back! The Exhibit was situated at two places: one part at Hall 7 focussed on the NBT Bestsellers, and its domestic activities, whereas the other part situated at the Foreign Pavilion (Hall 7 B) focussed on the International cooperation programmes. A number of government publishers like Sahitya Akademi, Publications Division IGNOU, NIOS, Prasar Bharati Archives, Doordarshan, CSTT, Gandhi Smriti & Darshan Samiti, Office of Registrar General and India and others participated.
Delhi Rights Table
About 40 publishers participated in the 2-days event, New Delhi Rights Table. This is a platform through which publishers get an opportunity to interact with each other and discuss about trade and copyright related arrangements. During the first session, Mr Michael Healy, Executive Director, Copyright Clearance Center, USA interacted with the participants regarding the challenges faced by the global publishing industry regarding protection of copyright.
Minimalism enchants at Japan pavilion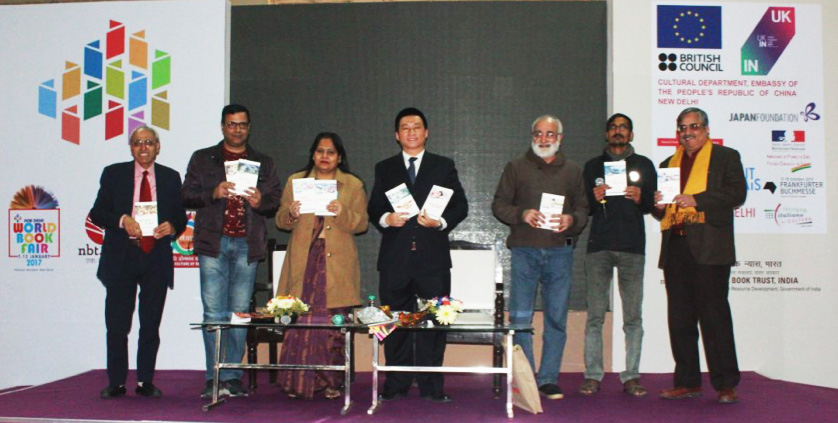 There was, of course, no guest country but the foreign pavilion that drew the eyeball this year was Japan's. Aman Ujjwal reports on a programme titled Japaneese Minimalism, organised at World Book Fair at the International Events Corner.
The Japanese began minimalism Post World War II. Kaoru Miyamoto, Director General, Japan Foundation, New Delhi, was the speaker at the programme. Miyamoto talked about a Japenese word 'Katazuke' which means to clean up, make placements tidy and organising things. He informed the audience that in every  bookstore in Japan  the two widely sold books in 'Katazuke' category are Dan-shari by Hideko Yamashita and Tokimeku by Marie Kondo. Dan-shari is the combination of three words—Dan means cut, ie. do not get things you don't need, Sha means to throw away, ie. to dispose things that you don't need, Ri which means to get rid from obsession with unwanted objects.
This concept originally comes from Yoga. In the other book, Tokimeku, the author asks the readers whether each object that they are using is achieving a purpose or not. The author advocates that people should keep only those things that make them happy. The book highlights the 'Zen way of thinking', Japanese values, tidying things up to change.
Women to the forefront

Veteran Bollywood actor, Asha Parekh was in a conversation with Khaled Mohammed and talked about her autobiography The Hit Girl. She said that she did not wish to be an actor but destiny made her work in movies.
NBT Chairman Baldeo Bhai Sharma said that Manushi, the theme of the fair, depicted women's major contributions in spreading knowledge.  He also talked about NBT's Veergatha and Women Pioneers series which have recently been launched in an attempt to connect youth with India's glorious past. Wajal, an organisation of young authors and journalists, organised a poets' meet at the Sahitya Manch where women writers like Jyoti Ghajbai, Kavita Gupta, Alka Agrawal, Karuna participated. For  booklovers who have special interest in Urdu poetry, National Council for Promotion of Urdu Language organised a Mushaira (poets' meet). The women poets who participated were  Shaista Yusuf, Tarannum Riyaz,  Waseem Rashid, Nassem Nikhat,  Ghazal Zaigham,  Qamar Suroor and Nusrat Mehdi.  The poems recited on the occasion focused on patriotism, society and the struggles that women face with courage and patience etc. During the conversation, KK Verma (former professor at IIT Kharagpur) talked about his book, Life and Time of Unborn Kamla.
A conversation was held with Manju Borah, National Award winning film director and writer from Assam. Rita Chowdhury, Director, NBT was also present on the occasion. During the session, her movie Joymati: The Survivor was also screened. A performance based on Brihadaranyak Gargi Samvad was also presented by Dharmendra and troupe. Students of Ahlcon International School, Delhi organised a play on Women Empowerment.  Jaya Mehta and  Swati Chattopadhyay, Odissi dancers gave a performance based on Pratibha Ray's Sahitya Award winning novel Shilapadma. A discussion on women writings was organised by Sahitya Akademi in which litterateurs including Chandrakanta,  Sharad Singh, Pankhuri Sinha,  Alka Sinha and  Mridula Shikla participated. At Hamsadhwani Theatre, music and dance presentation on themes like Beti Bachao, Beti Padho were organised.