Tarak Mehta: The writer with the 'ooltaah chashma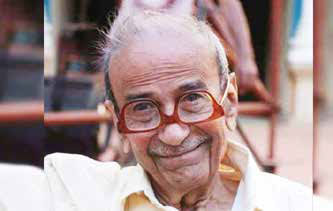 One of the most popular humour writers from Gujarat, Tarak Mehta, passed away on 1 March at the age of 87 due to prolonged illness. He began writing humour columns for a weekly Gujarati magazine Chitralekha. In all these years, he has authored nearly 80 books. Three of these books are a compilation of the columns that he wrote for a Gujarati Daily Divya Bhaskar.
The books that made him popular as an author are Tarak Mehtana Undha Chashma, Miss Pouder Gali, Jethalalno Jackpot, Sach Bole Kutta Kate, Chalo Chaprasi Banie, Sadhdhar Sasar....Adhdhar Jamhai, Tapudani Toor Mandli (all in Gujarati), etc. He got many prestigious awards for his writings which includes Padma Shri, the fourth highest Civilian Award of our country which was conferred to him in 2015.
Based on his writings, Sab TV, a Hindi entertainment television channel, started a daily TV series Tarak Mehta Kaa Ooltaah Chashma in 2008. The show got popular gradually and is still on air. His writings were adapted by several plays in Gujarati. The success of these plays made him quite a wellknown figure in Gujarati theatre.BLD