How she became a best-selling author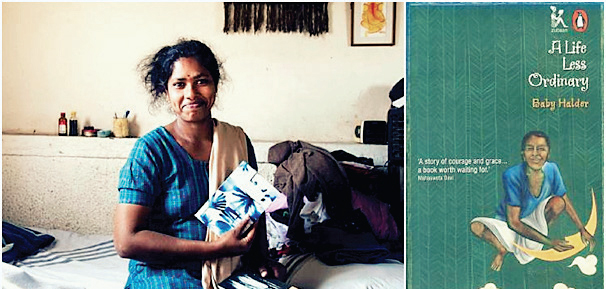 She was born in the beautiful valley of Kashmir. And even then, her life was anything but a bed of roses.
Baby Halder's birth mother abandoned her at the tender age of four because she refused to put up with the domestic violence her drunkard husband would inflict. As a motherless child, Baby continued to suffer exploitation at the hands of her ex-serviceman and driver father and her stepmother, with whom she travelled from Kashmir to Murshidabad and finally to Durgapur in West Bengal, where she grew up.
Forced to quit school after grade 6, she was forcefully married off to a small-time decorator, who was 14 years older to her at the young age of 12.
At an age where most girls her age studied and played all day, Baby was a mother at 13. The abuse that started on the dreadful night of her marriage when her husband raped her continued for 13 long years. Years of enduring domestic violence came to an end when Baby decided she had had enough.
In 1999, at the age of 25, Baby, then a mother of three kids, left her husband for good and escaped on a train to Delhi with her children to start a new life.
Baby's life was soon going to change because of one person she would continue to work for till 2015 as a househelp. This man was writer and retired anthropology professor Prabodh Kumar. The professor was perceptive enough to recognise the spark in her eyes, for reading. He was quick to offer her books and soon enough what once started with a hesitant choice of Taslima Nasreen's Amar Meyebela (My Girlhood) was followed by a host of novels by Ashapurna Devi, Mahashweta Devi, Buddhadeb Guha.
It wasn't long until Professor Kumar, before embarking on one of his many trips, handed her a blank copybook and a pen and told her to write. When the professor returned, she had already written over 100 pages! It was her memories of her mother, her bad marriage and her life in the past.
And that's how Baby's first book, her autobiography, Aalo Aandhari (Light and Darkness) was translated by Professor Kumar, the father she never had and the guru she continues to revere, in Hindi. Sanjay Bharti, a small publishing house in Kolkata, Roshani Publishers, published the book.