Education
Diversity drives Behavioural Economics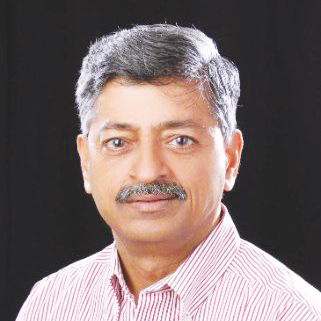 Sesh Seshadri
Publishing Consultant
Principles of individual behaviour leaving individuals to make free choices in a free market are the best way.
This thought has occurred to me after reading about the announcement of Nobel Prize in Economics to behavioural economist Richard H Thaler of University of Chicago.
Free choices in a free market result in the best allocation of resources. This is very pertinent to our current dialogue in making content available to schools.
Diversity in literature, importance of hearing from multiple voices is key, especially at a time when many movements are growing around the Globe.
International Literary Agent, Andrew Wylie recently said, 'Rise of nationalist movements and a "disjointed" political reality is facing the World'.
I am not bringing back the NCERT/CBSE dialogue, but would certainly highlight that India prides itself in diversity of views. People want more of such different perspectives.
Conclusion is that the model proposed by the government to have a single set of content for children in schools is bewildering.
At Frankfurt Book Fair Digitals found balance, Publishers focussed on innovation.
Mobile as a device is celebrating over 30 years and it is hard to remember how we lived our lives without them.
The introduction of iPhone, Kindle and other devices are just about 10 years in the market, the game changers for the Publishing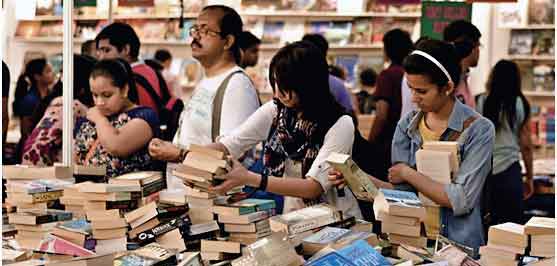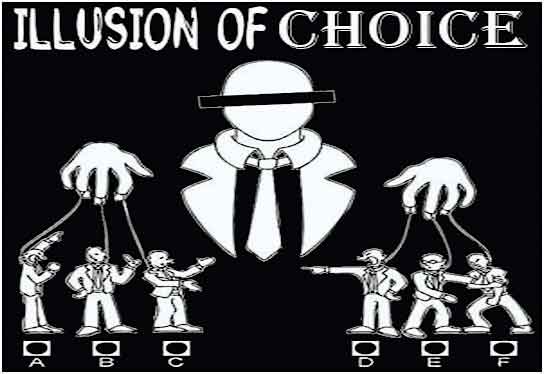 industry. There was so much speculation when these were launched and doubts were raised about the survival of the print book.
In India the discovery of all sorts of new digital platforms and distribution opportunities continue and is yet to hit a point of good understanding. Having said that, many publishers see themselves as technology driven.
The challenges are whether technology provides the flexibility required by Publishers for their products and their Authors. How do they capitalise on their content in multiple ways? Is there appetite for interactive products? Consumer e-book sales have not taken off in India. Selling e-books to libraries via consortiums is doing fairly well. Publishers continue to invest in print/physical books.
The conversation should never be print books versus e-books. They complement each other and will co-exist. The customers must begin to accept and understand that high quality content will never be free and requires funding and support.
We should be happy that a sense of stability and confidence is returning to the book business.
1,100 KV schools vote for German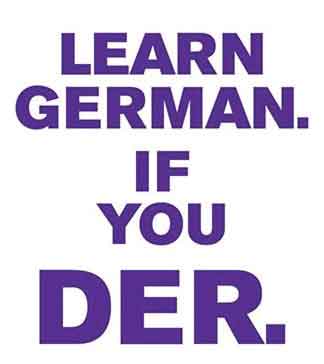 A survey was conducted in January 2016 in the 1,100 schools the Kendriya Vidyalaya Sangathan runs, showingstudent preference for German. This survey took place after a meeting of the KVS board of governors in October 2015, after the government announced a new language policy.
Then HRD minister Smriti Irani had ruled, German would no longer be taught as a third language in Indian schools. The Ministry had also downgraded the official Indian presence at the Frankfurt Book Fair.
In the first-of-its-kind survey, over 38,000 students from Classes VI to VIII said they preferred to study German as a fourth language. Around 23,000 favoured French while Spanish and Mandarin got over 8,000 votes each. The KVS, which used to ask students to study Hindi, English and Sanskrit compulsorily, changed its policy in 2011. It had just decided to offer German as a third-language option to Indian languages in Classes VI to VIII in 2012. Professor Rajendra K Jain, who teaches at the Centre for European Studies at Jawaharlal Nehru University, told the media German and French have been 'popular' choices for Indian students.
'The interest in Mandarin is understandable. China is our largest trading partner. India has so much political and economic engagement with China also', he added. 'But I am surprised by the response Spanish got. Spain does not have much cultural connection with India.'
Job opportunities are aplenty for foreign language students. There are jobs on offer in tourism, diplomatic services, entertainment and mass communication. Also high on demand are lucrative opportunities as interpreters, translators for MNCs and government organisations, foreign language trainers, public relation officer.
The murder of a poet: Neruda exhumed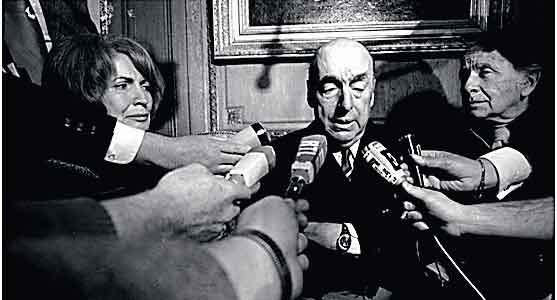 A global team of experts has gathered in Santiago, Chile, to decide whether the 23 September 1973 death of poet and diplomat Pablo Neruda was due to poisoning. The panel, which includes authorities from Chile, Spain, the US, Denmark, Canada and France will deliver their report to Judge Mario Carroza, who is overseeing the investigation.
Neruda is one of the world's most controversial literary figures, most criticised for his politics and personal life, most loved for his poetry.
In 2011 Chile had said that the death of Nobel Laureate Pablo Neruda will be reinvestigated to ascertain if the poet was poisoned in 1973, within 12 days of the South American nation's military dictatorship and rule by Augusto Pinochet began. Neruda's remains were exhumed in 2013. However,a group of Chilean and international experts concluded seven months later that Neruda was not poisoned.
If You Forget Me

If suddenly
you forget me
do not look for me,
for I shall already have forgotten you.
If you think it long and mad,
the wind of banners
that passes through my life,
and you decide
to leave me at the shore
of the heart where I have roots,
remember
that on that day,
at that hour,
I shall lift my arms
and my roots will set off
to seek another land.

Neruda, a staunch communist whose love poems some consider to be among the most romantic ever written, was presumed to have died of prostate cancer following the US-backed coup that led to the merciless rule of dictator Pinochet. However, many suspect that he was murdered, Reuters reported.
'There is initial evidence that he was poisoned and in that sense the signs point to the intervention of specific agents', Francisco Ugas, the head of Chile's humans rights department, has said.
Neruda was a loyal follower of ousted President Salvadore Allende and an envoy in Sri Lanka, Myanmar and Mexico. In Mexico, he was suspected to have sheltered the assassin of the ultra-left leader Leon Trotsky.
Neruda's chauffeur Manuel Araya claims Pinochet's operatives injected the poet's stomach with poison while he was bedridden. Investigation was opened after a complaint was filed by Neruda's Communist Party colleagues based on charges by Araya.
Investigations of other deaths have established that 'crimes' took place at the Santa Maria Clinic – where Neruda died – during Pinochet's dictatorship, Eduardo Contreras, legal counsel for the Chilean Communist Party, said. He pointed to the 1982 death of former President Eduardo Frei Montalva, who governed from 1964-1970, at the same Santa Marta Clinic after undergoing a routine procedure. This too has been attributed to poisoning.
The 20-year old Harry Potter madness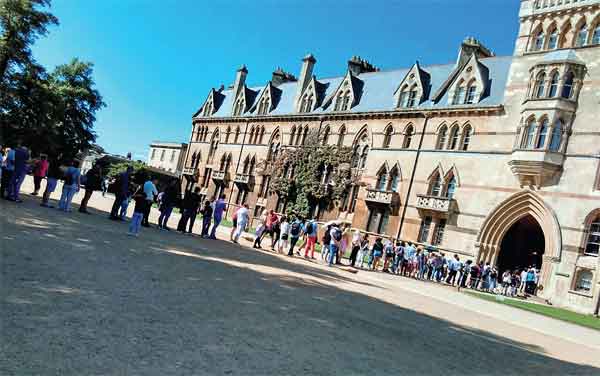 Long queue at Christ Church College Oxford, UK where some of the Potter films were filmed
A new exhibition celebrating the 20th anniversary of the first Harry Potter book's publication is offering 'muggles' with an interest in magic the chance to view rare memorabilia, combined with historic artefacts referenced in the popular series.
'Harry Potter: A History of Magic', being held in the British Museum in London, features Potter memorabilia including author J K Rowling's first annotated sketch of Hogwarts school, as well as her handwritten list of its teachers and subjects.
'Our exhibition explores the history, mythology and folklore behind the Harry Potter stories', Julian Harrison, the exhibition's lead curator, told Reuters. 'We investigate broomsticks and cauldrons and unicorns and dragons. We've organised the exhibition around some of the subjects that students would study at Hogwarts School of Witchcraft and Wizardry, from potions to charms to astronomy and divination.' The seven Harry Potter books have been translated into 68 languages and have sold more than 400 million copies worldwide, Rowling's publishers say.